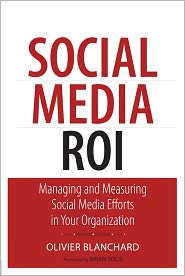 Another book on social media was published recently entitled,  Social Media ROI: Managing and Measuring Social Media Efforts in Your Organization, by Olivier Blanchard.
They're a dime a dozen these days and it's hard to separate the wheat from the chaff, isn't it?
I was looking for something different – not theoretical, but practical; something based in business and the bottom line and not just the typical social media buzzwords like "mentions," "likes" and "comments." I wanted something that would help me make wise business decisions on just how to – or even if I we should – use social media.
I found it in this book.