Assistant Vice President for Marketing Communications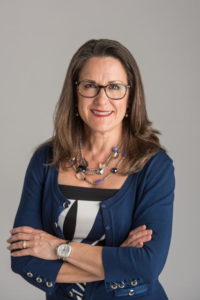 Elizabeth's career in marketing and communications spans over 25 years and features a broad breadth of work within consumer products, business services, non-profit, government, professional sports and higher education.
As executive director for marketing at the University of Michigan, Elizabeth is responsible for the overall marketing and brand strategy for the university with direct oversight of Michigan Creative, Michigan Photography and Video, Digital Media and Brand Management. Additionally, she works closely with the marketing and communication teams at each of the schools, colleges, units and central administration offices. She also leads the university's Executive Marketing Council, which is made up of the top marketing personnel across the University of Michigan.
Prior to joining U-M, Elizabeth served in the role of Senior Vice President Marketing and Partnerships for the Detroit Lions. She held strategic responsibility for the Detroit Lions brand, fan experience and partner engagement. Oversight included marketing, partnerships, activation, game-day experience, broadcast, digital, corporate communications, merchandise, community relations and youth education Management of a 30-person team and over $25 million budget.
Parkinson previously served as the senior vice president of marketing and communications for the Michigan Economic Development Corporation. The MEDC serves as the state's marketing arm and lead agency for business, talent and jobs, tourism, film and digital incentives, arts and cultural grants, and overall economic growth. In her role at the MEDC, she directed all business and consumer marketing and communications, which included oversight of Travel Michigan, media relations, advertising, events, web development and graphics. She had direct oversight of the award-winning Pure Michigan campaign.
Before joining the MEDC, Parkinson served as director of marketing and public relations for Ann Arbor SPARK, developing and implementing the organization's integrated marketing and public relations effort. Through aggressive public outreach and targeted advertising, along with the development of digital and social media tools, SPARK was recognized nationally under her leadership.
Parkinson also worked at Edelman Public Relations in Chicago, serving as executive vice president of the Creative Solutions group. She developed, coordinated and executed several creative campaigns for multi-national clients, including: Microsoft, Kraft, KFC, Pizza Hut, FTD, Case IH, Allstate, Abbott, Pfizer, Fuji Film, Mexico Ministry of Tourism, Illinois Board of Tourism, Bacardi, Underwriters Laboratories and Whirlpool.
As a graduate from Alma College, Parkinson holds a Bachelor of Arts degree in marketing and accounting from Alma College. She and her husband, Frank, have four children, Madeline, Isabella, Carmen and Frank. Parkinson has held numerous board positions including the Michigan Travel Commission, Michigan Council for Arts and Cultural Affairs, Washtenaw Economic Club and the Arts Alliance. Her work with the Detroit Lions was recently recognized with an Emmy Award. Additionally, Elizabeth currently serves on the board of trustees for Alma College.