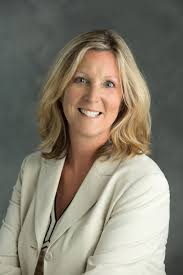 Vice President for Communications
Kallie Bila Michels was appointed vice president for communications, Office of the Vice President for Communications at the University of Michigan, effective February 17, 2017.
As vice president, Ms. Michels oversees all aspects of both internal and external communications for the university, including communication policy, media relations, advertising and marketing, and creative editorial and design services. She will provide leadership on communication strategy for the university and will counsel the president and executive officers regarding communication issues.
Ms. Michels earned her B.A. in applied arts from Central Michigan University in 1985 and her M.A. in advertising from Michigan State University in 1993.
Ms. Michels joined the University of Michigan in 1988 as an information officer in the Office of Planning and Marketing for UM Hospitals and Health Centers. She held a number of positions in the UM health system and in 2000, was appointed as the director of public relations for the Health System. In 2008, she was appointed as the associate vice president in the Office of the Vice President for Communications. Ms. Michels has developed and implemented communication strategy for university initiatives and priorities. She has worked closely with the president, executive officers and other university leaders in developing messaging and planning media opportunities related to critical institutional issues. In 2011, she served as the interim vice president for communications in the Office of the Vice President for Communications. She took on an additional role in 2013-14 as the interim chief communications officer for the health system.