Associate Vice President for Public Affairs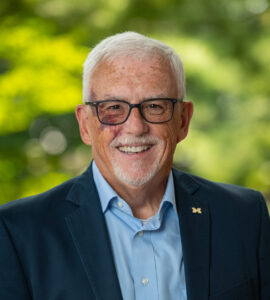 Rick Fitzgerald is associate vice president of Public Affairs and Internal Communications at the University of Michigan. He also serves as the official spokesperson for the university. The Public Affairs team is a professional staff of six that handles crisis communications for the university, media inquiries for the central administration and communications planning for major university initiatives. The Internal Communications team is a staff of five dedicated to the University Record, the official news source for the campus community. It publishes online daily, pushes out a daily email newsletter and offers a print edition weekly.
Rick joined the Public Affairs staff in 2009 after a long career in the news business, most of it with The Ann Arbor News. While at The News he directed the newspaper's local news coverage, had the opportunity to launch two weekly newspapers and wrote a weekly column for more than a decade. He was named associate director of public affairs in 2012 and in 2014 was named director. He graduated from Central Michigan University with a degree in journalism and English. In 2014 he completed a master of science in administration degree, also from CMU.