Interim Vice President for Communications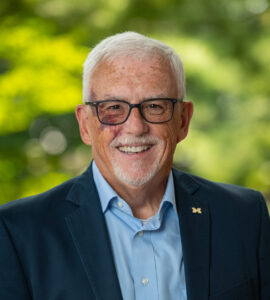 Rick Fitzgerald was appointed interim vice president for communications, effective Jan. 4, 2023, and will continue until a new vice president comes on board. He has served as associate/assistant vice president for communications since 2017.
He will oversee all aspects of internal and external communications for the university, including communication policy, media relations, advertising and marketing, and creative editorial and design services. He will work closely with the president, executive officers and other university leaders in developing messaging and planning media opportunities related to critical institutional issues.
Rick also has been serving as the primary public spokesperson for the university. He joined the university communications team in 2009 after a long career in the news business.
He graduated from Central Michigan University with a bachelor's degree in journalism and later completed a master of science degree in administration, also from CMU.