RSVP
Next Communicators' Forum
A Conversation with President Schlissel
Thursday, February 6, 2020 • 8:30–10:30 a.m.
Robertson Auditorium, Michigan Ross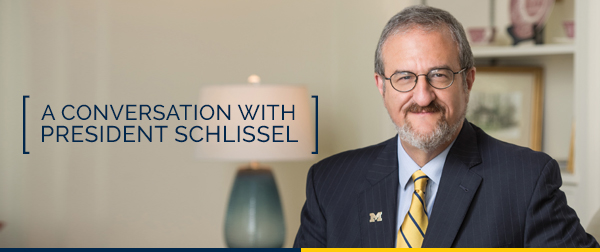 A Conversation with President Schlissel
Please plan to join us on February 6 for a conversation and Q&A with U-M president Mark Schlissel and VP of Communications Kallie Michels. You'll learn about the latest campus activities, get updates on important presidential initiatives, and much more. And you'll get a sneak peek at the new brand website. We hope to see you there!
---
What is Communicators' Forum?
Working as a communicator at a large, decentralized institution can be extremely exciting and exasperating at the same time. There are a lot of amazing things happening here but it's hard to know where to begin sometimes. How are other U-M departments recruiting students? How are colleges using social media to reach their audiences? What are the best ways to share research findings with the media?
---
Communicators' Forum was created to provide information and resources for marketing and communications professionals at the University of Michigan — to provide a regular forum for communicators to actually communicate with each other! We host special sessions throughout the year where we discuss the latest topics and best practices at U-M and in the field. These gatherings are also a great opportunity to share ideas, network and collaborate with colleagues from across campus.
We also offer six Sub-Groups that meet to cover specific areas of interest:
Get Connected
If you're interested in joining our email list to receive event information or have other questions about Communicators' Forum, email communicators.forum-requests@umich.edu.
To join any of the Sub-Groups, please register on their individual page.