Marketing & Communications Impact
2019 Highlights, Impact and Reach
Peer Comparison
Number of stories per month
Peers - Public

Peers - Private
Top News Sources
Number of U-M stories this year
289

New York
Times

165

Washington
Post

135

NPR

202

Wall Street
Journal
Total Number of News Stories - 300,906
National - 231,453 / Global - 69,453
(Excluding Athletics)
971,700
Average Monthly Broadcast Audience
159,640
Average Monthly Streaming Audience
420,610
Average Monthly Website Unique Users
The state's most-listened-to public radio station.
Source: Nielsen Audio National Regional Database, Spring 2019.
29,149,968
TOTAL PAGEVIEWS FOR VPCOMM MANAGED WEBSITES
Gateway
The University Record
Michigan News
Michigan Today
Global Michigan
Public Affairs
Engaged Michigan
Sustainability
Office of the President
Diversity
Michigan Impact
Heritage
Arts & Culture
Español
Innovate Blue
23,506,161
Gateway total pageviews
9,296,698

Gateway Unique Visitors

42,467

Gateway Feature Clickthroughs
See

more

fewer

clickthroughs
Featured Project
Admissions Video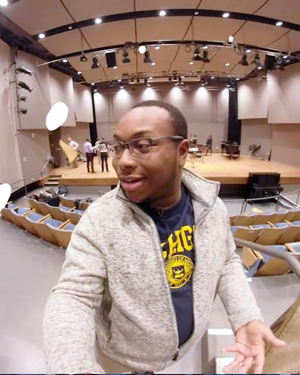 Michigan Media collaborated with the Office of Undergraduate Admissions to create a new Admissions Video that takes a fresh perspective by having the U-M story told completely through the voices and experiences of current students. This approach worked so well that it won a Gold CASE Award for "Best Video for Student Recruitment."
More about Admissions
Featured Project
2019 Annual Report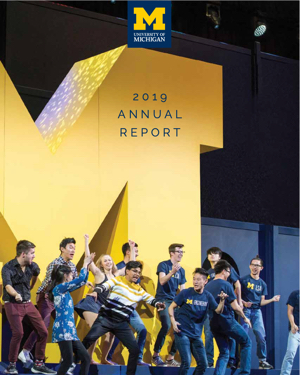 Each year U-M produces a digital and print report showcasing how bold new initiatives are advancing the public good through research, education and patient care. U-M's 2019 report features messages from leadership, a highlights slideshow, major projects and awards & honors along with financial statements.
More about the Annual Report
Featured Project
"This is Michigan" — Stories of Our State
This is Michigan—Stories of our State is OVPC's integrated communication effort sharing the benefits that U-M research, teaching, patient care and public service bring to the state. During 2019, five PSAs were developed featuring campaign footage and messaging to be played at the stadium and during nationally televised football games.
More about This is Michigan
Previous Quarterly & Annual Highlights